A LOCATION OF CHOICE
Activities for all tastes
Our region is recognized for your sporting, cultural, gourmet and tourist activities, Magog is the best place for your next vacation.
In summer, the many festivals, the water and outdoor sports, the beautiful cycling paths (the La Route Verte passes in front of our lodging) as well as its two public beaches, one of which is a 4-minutes walking distance) make Magog a place everything to make your stay unforgettable.
In winter, enjoy the ski slopes of Mont Orford, Bromont and Owl's Head, cross-country ski trails, snowshoeing or skating on Lake Memphremagog. In addition, do not miss La Fête des Neiges which takes place in February, it is a joy to all.
Whether you have a special occasion to celebrate, a stay with friends or family to organize or a reunion with co-workers to plan, we can offer you a package adapted to your needs. Call us to discuss the different possibilities.
The popular Street Food Wednesdays are back for summer 2022!
Take advantage of the enchanting landscape of Mont-Orford to taste the region's street truck specialties and this year, take a gondola ride.
AT THE FOOT OF THE SLOPES
Every Wednesday evening, from July 6 to August 24, several food trucks will take place at the foot of Mont-Orford with varied menus each week. Ideal activity to combine after your hike, your bike ride or simply for a well-deserved dinner break.
4 p.m. to 8 p.m.
On-site bar service
Free admission
The street trucks present: Streatacos, Zap Pizza Mobile, Queue de Castor, Faim Renard, la Choppe*, Greenbank BBQ*, Les Boucaniers en cavale**
DJ Michel on the decks!
Le Trimemphré will be 27 years old in 2022.
Dear athletes, the triathlon season is upon us and the organization of the Trimemphré is already working on setting up its 27th edition, on July 15, 16 and 17, 2022.
Organized for the first time in 1995, the Trimemphré is one of the means that the Memphrémagog Triathlon Club has given itself to promote triathlon. The Magog region offers participants breathtaking landscapes, selective routes and easy access to the beaches of Lake Memphremagog. The experienced organizers have innovated over the past few years on several aspects of the race: scholarships, electronic timing, road safety, food, athlete services, etc. These advantages make the TriMemphré an event whose notoriety is very high within the community of triathletes and duathletes in Quebec.
Le marais de la rivière aux cerises
A living environment to explore.
The Marais is more than 5 km of trails on stilts or gravel in the summer season, and nearly 6 km of trails in the winter season open daily from 7 a.m. to 11 p.m. This circuit, open year-round, offers you a privileged incursion into the heart of its various ecosystems.
The MRC Memphrémagog cycling network
Cycling map of the MRC Memphrémagog
Cycling map of the MRC Memphrémagog circuits
Escapades Memphrémagog
The Grand Cru will rock you on the waters of majestic Lake Memphremagog, a true natural wonder of the Eastern Townships. You will be fascinated by the luxury inside the boat, transported by the elegance of the atmosphere, carried away by the poetry of the panorama… but above all, you will swim in complete happiness thanks to the delights of a table as impressive as it is delectable.
Discover the cruises
There are many ways to experience the Grand Cru! Day cruises will allow you to admire the enchanting scenery and enjoy a relaxing atmosphere, while evening cruises will allow you to experience an extraordinary getaway at sunset.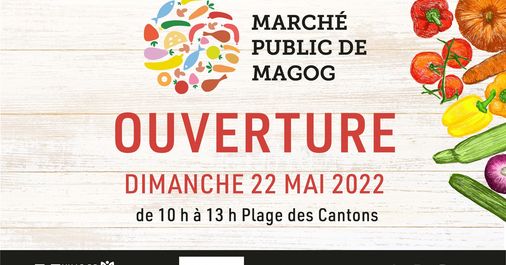 PARKING IS FREE FOR MARKET CUSTOMERS FROM 10 AM TO 1 PM.

ENJOY A BEACH

ENJOY A FAMILY PARK

ENJOY THE GREAT AIR

ENJOY… SIMPLY
EVERY SUNDAY FROM 10 AM TO 1 PM
AT THE TOWNSHIP BEACH
Rediscover Plage des Cantons by going to the Magog Public Market!
How many markets can boast of a breathtaking view of 2 mountains
and to be on the shore of one of the most famous lakes in Quebec?
THE MAGOG PUBLIC MARKET OFFERS YOU MORE.
COME SPEND A FAMILY DAY AT THE MARKET AND ENJOY THE OTHER ATTRACTIONS
FROM THE BEACH OF THE TOWNSHIPS SUCH AS THE PARK, THE BEACH AND MUCH MORE.
THE PERFECT PLACE
The beach and the main street is less than 5 minutes away
Restaurants
​Did you know that you can benefit from a few discounts in several Magog restaurants by staying with us?
For all the details, visit :
Or click this link for the list:
Activities at Memphrémagog Lake
Beaches
Swimming
Water sports rental
Cruises
Magnificent sunsets
Activities at Orford Mount
Hiking
Climbing
Golf
Canoe
Alpine and cross-country skiing
Orford Arts Center
SEPAQ of Mont-Orford
Sports activities
La Route Verte cycle path
Inline skating on trail
Walking trails
Racket
Other mountains (30 to 45 minutes drive): Owl's
Head, Sutton, Bromont, Jay Peak
Tube slides at Mont Hatley
River fishing
Ice fishing
Ice skating
Dog and horse sledges
Art & culture
Au Vieux Clocher (shows)
St-Benoit du Lac Abbey
Antiques
Art galleries
"La Marjolaine" summer theater – Eastman
Blue Lavande
Soaps of the Townships
Restaurants, bistros
Terraces, shops
Capleton Mines
Le Cep D'Argent Vineyard
Eastern Townships Wine Route
Our packages
At Coq du Bonheur we have no packages made in advance, that turn out to be restrictive for some of our clients. Instead, we favor a more personalized approach according to your tastes, your expectations and current mood. A world of possibilities is waiting for you and we will shape a package to your personal interests.
We will be happy to recommend you the best options, upon booking or at your arrival. We work with our partners (restaurants, activities, tourist attractions, etc.) who offer us great discounts or rebates that will make you save.
Enjoy !
Gourmet package
You are an epicurean and want to live the little seduction of our local flavors? You have plenty of choices to taste our local cuisine and also, the magic of our restaurant chefs.
You will make great discoveries! Why not travel along the Wine Route; winemakers will share their love and passion for wine. Delectable discoveries in perspective…
Relaxation package
The Memphrémagog region is by far one of the best places to relax. Each person has his own way to "disconnect" from everyday life. Treat yourself with a package in a beautiful spa; what a blessing! Or take a walk in the great wilderness, namely in the Mont Orford National Park. Resourcing guaranteed!
Sports package
What season are you? Regardless, there is always a variety of sports to do in our beautiful region. We certainly have something interesting for you!
Discovery package
So here you have the choice! Workshops, cultural activities, a ride on the Orford Express train or a cruise on the magnificent Memphrémagog Lake? The choice is yours!